SPRINKLERS IRRIGATION, LAWN MAINTENANCE, PAVERS, FERTILIZE, MOWING, LAWN MOWERS, MULCH, CLEAN UP, SPRING, FALL LEAF REMOVAL, SNOW, PATIO, SIDEWALK, DRIVEWAY, WEED CONTROL, ALLOWAY, AVALON, BRIDGEPORT, BRIDGETON, BUENA, CEDARVILLE, CLARKSBORO, CLAYTON, COLOGNE, DEEPWATER, DEERFIELD, DENNISVILLE, DEPTFORD, DIVIDING CREEK, ELMER, EWAN, FAIRTON, FORTESCUE, FRANKLINVILLE, GIBBSTOWN, GLASSBORO, GREENWICH, HAMMONTON, HANCOCKS BRIDGE, HARRISONVILLE, LANDISVILLE, MANTUA, MAYS LANDING, MICKLETON, MILLVILLE, MONROEVILLE, MOUNT ROYAL, MULLICA HILL, NATIONAL PARK, NEWFIELD, NORMA, PAULSBORO, PEDRICKTOWN, PENNS GROVE, PENNSVILLE, PINE HILL, PITMAN, QUINTON, RICHWOOD, SALEM, SEABROOK, SEWELL, SWEDESBORO, VINELAND, WENONAH, WILLIAMSTOWN, WOODBURY, WOODBURY HEIGHTS, WOODSTOWN, SPRINKLER SYSTEMS, SALEM COUNTY, GLOUCESTER COUNTY, CUMBERLAND COUNTY,NEW JERSEY, SOUTH JERSEY, SPRING START UP, WINTERIZATION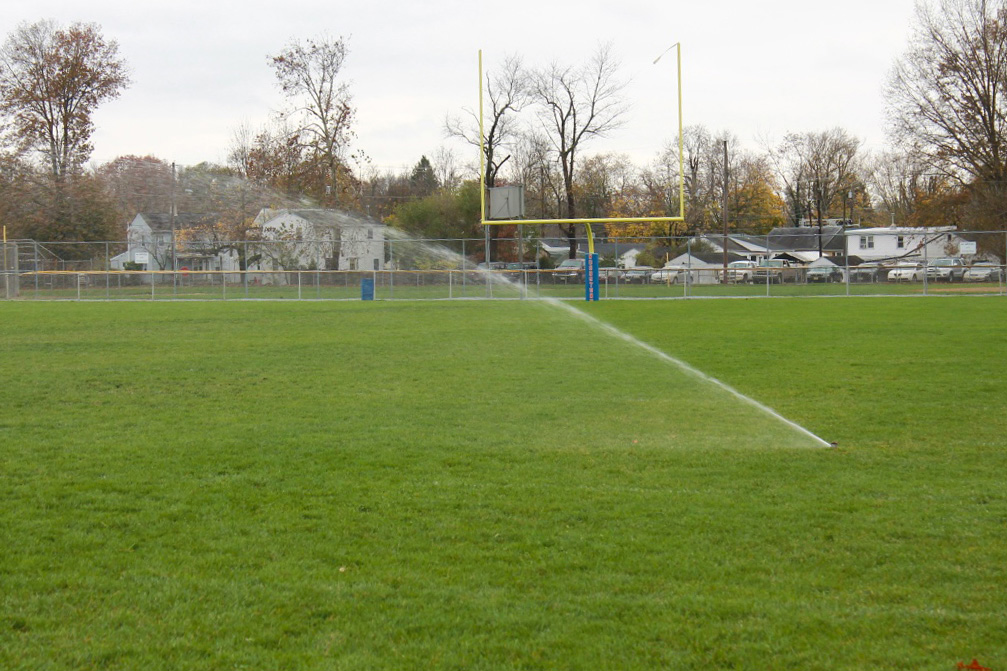 Rainman Custom Sprinklers Irrigation
856 | 769 | 3989
Rainman Custom Sprinklers is a design/build company that has been in serving South Jersey since 1989. Originally only a service provided by Lawn's By Walt, the Rainman Custom Sprinklers name was established in 2000, and now operates as a stand alone division of Lawn's By Walt LLC.
Rainman Custom Sprinklers has installed systems on properties ranging from small residential to large industrial sites, and everything in between including sports fields and retail complexes.
Rainman Custom Sprinklers is not trying to be the biggest company in the area, just the best! We strive to provide the customer with a quality system at a reasonable price through personal service.
Rainman Custom Sprinklers uses only the best products available from industry leading manufacturers, Hunter, Rainbird, Netafim and Irritrol. All major components come with a five year warranty, as does the installation labor.
After the installation is complete we provide full service to your system. Our technicians will visit your location in the spring to check and adjust system to insure a trouble free season of watering. In the fall we will return and prepare the system for winter by clearing all of the water out of the pipes to prevent the pipes from freezing and cracking.
Q. Will my house and sidewalks turn orange because I have well water and not filtered city water?
A. No, most of the work we do is with well water. We design our systems to keep as much water as possible off of any surface that might discolor (house, sidewalks, driveways, etc.)
Q. Will my water bill increase by installing an automatic sprinkler system, instead of watering with a hose?
A. No, since most of our work is with well water our designs are better than most other contractors. Our designs keep the water on the lawn and off the house and street, where it's being wasted. Every part of the lawn receives the right amount of the water, no dry spots, no wet spots. In certain situations we install a second water meter, which also helps reduce water bills.
Q. What is matched precipitation, and do you match precipitate your systems when you install them?
A. Match precipitation is the practice of insuring that every part of the lawn receives the same amount of water. It's achieved by carefully installing a nozzle in each sprinkler head that best matches the area of the lawn it is watering. Yes, we match precipitate every job we install, unlike most of our competitors.
Q. Are you a licensed plumber or will you have a licensed plumber perform the water hook-up as required by the state?
A. No, we are not a licensed plumber, but we do have a licensed plumber perform all of our hook-ups.
Q. Are you a licensed irrigation contractor?
A. Yes, we are a licensed contractor, we have been licensed since it became law in 1995. If a contractor is not licensed it either means they don't take their profession seriously, they can't pass the test, or they don't have enough experience for the state to allow them to take the test.
Q. How long have you been installing irrigation systems?
A. We installed our first system in 1989.
Q. Can you provide references from existing customers and/or examples of comparable work?
A. Yes, a reference list can be provided. Jobs that we have installed range from the smallest of town yards to a retail complex and everything in between including an eight acre residential property and numerous soccer/baseball facilities.
Travis L. Turner Lic #15547 | Lic # 13VH00855100
539 Watsons Mill Road Woodstown, NJ 08098 | 856-769-3989 | fax 856-769-5591